Tracey D. Hooker - Vocals, trumpet, flugelhorn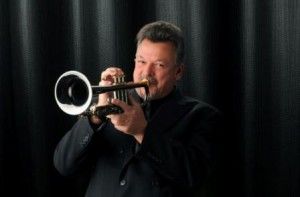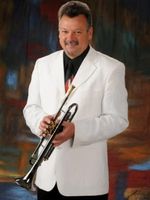 Tracey D. Hooker is a Grammy Award winning Trumpeter from the Puget Sound area. He currently serves as the Band Director for the Nova School for highly capable students in Olympia, Washington and as a Brass Instructor for the Olympic Community College in Bremerton, Washington. Mr. Hooker is a graduate of Regents College (SUNY). A 22-year veteran of the United States Navy Music Program, Tracey has traveled extensively throughout the United States and Europe as a featured trumpet soloist. Mr. Hooker is well-versed in all styles of music and has conducted numerous trumpet clinics worldwide ranging from elementary to college level. He remains continually booked with a number of High School and College Bands as guest solo artist. Tracey currently performs as Lead Trumpeter with the Olympia Jazz Senators, Olympia's own swing and the blues band 7 on 7. Additionally he performs as a sideman with many local groups as well as more notable groups such as The O'Jays, Frankie Valli, Solomon Burke, Arturo Sandoval, Bobby Shew, Mic Gilette, Stan Mark, the San Diego Symphony and the Florida Symphony. Additionally, Tracey is an adjudicator and member of the Washington Music Educators Association. Tracey is a Trumpet Artist for the Cannonball Music Company and endorses Marcinkiewicz mouthpieces. Despite Tracey's busy schedule, he makes time to teach privately from his home studio.  
Osama Afifi - Electric and acoustic bass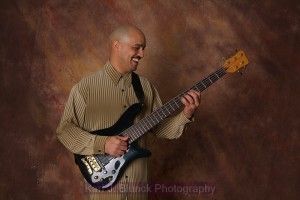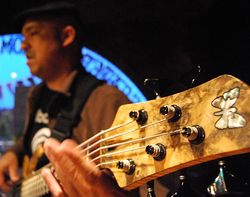 Most people know Osama Afifi as a dedicated, hard working bassist whose love for music knows no bounds whether he is performing straight-ahead jazz, fusion, rock, R&B, pop, or Latin. For several years Osama has been the bassist for the B Sharp Jazz Quartet based in Los Angeles, CA. He helped the quartet reach new heights with his innovative and compelling bass style. The B Sharp Quartet has been praised by numerous national and regional magazines and newspapers for example as "one of the most distinctive group sounds in jazz today" (Jazziz Magazine). The Quartet toured extensively throughout the U.S. and Europe. Osama has also ventured into composition, co-writing a song entitled "Nami" that is featured on the group's CD "Searching for the One". The song was named as a "future jazz standard" by Billboard Magazine. KLON, L.A.'s premier jazz radio station chose "Nami" to be on their latest compilation CD. Osama records and performs live with many other artists, including U.S. and Canadian tours with world renowned recording artist Yanni, a European and Canadian tour with the famous European artist Vannessa Paradis, and a TV show on VH1 titled Storytellers with R&R legends the Doors. He has worked with Grammy nominated jazz vocalists Kurt Elling and Nnenna Freelon, the Fifth Dimension, rock pioneers The Cadillacs, jazz saxophonists Gary Herbig, Minday Abair, Jeff Kashiwa, singer Debbie Boone, former Miles Davis keyboardist Kei Akagi, Winton Marsalis' pianist Eric Reed, Doors drummer John Densmore, Brazilian style guitar duo Hugo Jojo, and jazz trumpeter Tony Guerrero. He also records numerous jingles and TV shows such as Wild Bill's Adventure, Battledomw, the new Newlywed Game, and the Disney Show Lizzie MacGuire. His commmercials include recordings for Denny's, Infiniti, Barbie, Hyundai, and Tropicana. Osama Afifi does his share in educating the next generation of musicians peroforming clinics and teaching privately. He also taught at the Los Angeles Music Academy in Pasadena, California. 
James C. Cochran - Keyboards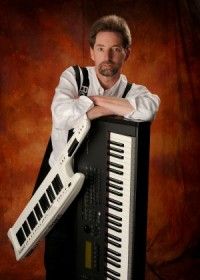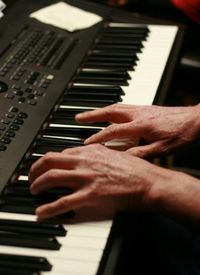 Jim Cochran has been a part of the Northwest music scene since 1977 beginning his professional career in the funk band Readymade Family while still in high school. After additional schooling at the Berklee College of Music in Boston, MA and the Cornish College of the Arts in Seattle, Wa Jim was invited to join at established "corporate casual" band by the name of OASIS. After spending more than a decade refining his performance skills at some of the Puget Sound's most elite events Jim performed shows with the Coasters, Drifters, and Sharelles both in Washington and Idaho and was next asked to put together the house band for Legends in Concert at the Muckleshoot Casino in Auburn, Washington where he performed for the next 4 years. During that time Jim met Aaron Hennings while performing with the Groovin' Higher Jazz Orchestra (GHJO) as their principal pianist. Aaron and Jim went on to perform at many of the Northwests largest casinos with the Randy Linder Band and many other casual/corporate events. Jim and Aaron later met Tracey Hooker in the GHJO. In the winter and spring of 2012 Jim could be found at the grand piano in Tacoma's el Gaucho restaurant where he performed for 6 months and he also performs with the classic vocal group The Diamonds when they visit the northwest.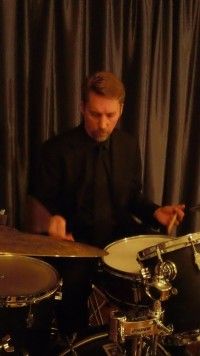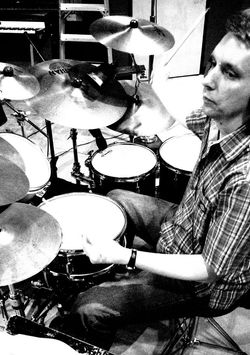 Aaron Hennings has developed a reputation as one of the Northwest's finest drummers.  It is obvious to listeners that when they hear Aaron they hear a solid groove, creative soloing and "tasty" accompaniment for any musical style, be it jazz, latin, funk, r&b or rock.  Aaron is currently the Director of Music for Asa Mercer Middle School in Seattle.  Aaron has built a music education program that includes four string orchestras, six bands, and percussion ensemble.  Aaron holds a Bachelor and Masters degree from Central Washington University in Music Performance and Music Education. He is a former member of the 724th Air Force Band McChord AFB Tacoma, 1990-1993. Aaron has performed with many noted musicians, such as Doc Severenson, Pete Christlieb, Mark Murphy, Ernestine Anderson, Bill Watrous, John Clayton, Bud Shank, George Cables, Mel Lewis, Dick Oates, Phil Woods, L.A. studio session artist Wayne Bergeron, former lead trumpet for the Stan Kenton band, Mike Vax and former lead trumpet for the Frank Sinatra Band, Walt Johnson. Here in the Northwest, Aaron performed in the David Keys Trio from 1996 – 1998.  Aaron also had a musical association with the late Seattle jazz vocal artist Woody Woodhouse, performing at the noted Seattle jazz hot spots. The Woody Woodhouse quartet also performed for many outdoor festivals such as, Jazz in the Valley in Ellensburg WA.  Aaron joined the Randy Linder "Rock Trilogy Band" from 2005 – 2007 and while with the Linder band, Aaron performed the Northwest casino circuit as well as opening for national acts Poison, Skid Row, and Santana. Aaron currently performs in the greater Seattle/Tacoma area with noted local act Hook Me Up.  Hook Me Up has performed as an opener for comedian/icon Bob Newhart, Jazz in the Valley, wedding receptions, concerts in the parks, club gigs, dinner shows, and studio recordings.  Hook Me Up has provided a great platform for Aaron to show his considerable expanse of drumming skills and musical knowledge.  Aaron also performs with the Groovin' Higher Orchestra, The Jazz Senators, Lance Buller and the Monarchs, Stephanie Porter, Swingin' Soire, and The Highrollers Funk/R&B.  Aaron also performs many freelance gigs with various combinations of top flight Northwest musical talent.
Aaron C. Hennings - Drums and percussion